Evacuation Chairs (Rescue Chair) also known as Emergency Evacuation Chair which used for saving lives in a state of emergency such as fire, earthquake and so on. It is a ideal device for quick tranporting patients, and people who pregnant, impaired, blind, asthmatic, deaf, injured, elderly, infants, epileptic, arthritic, angina, disdressed, etc. As a leading supplier for High Quality Emergency Evacuation Chair in China who mainly in exporting business, we have a very creative engineer team with very strong R&D ability, we can make evacuation chair as per your requests. We offer OEM service for all kinds of rescue chairs to worldaround partners with very competitve prices and the most quick & professional service. If order quantity is big enough, we will offer the BEST possible price. Check more detail specifications (such as picture, training video) of our emergency evacuation chairs from blow, please do not hesitated to contact us via email: [email protected] if you are interested in evacuation chairs.
As a Chinese professional evacuation chairs manufacturer, we supply different kinds evacuation chairs with more competitive price and better quality. Stairway evacuation chairs are specially designed and produced for the smooth descent of stairways in the event of an emergency.
Emergency tracked evacuation chairs have rubber crawler tracks to grip the stair corners. The tracks' teeth ensure positive traction with the stair noses.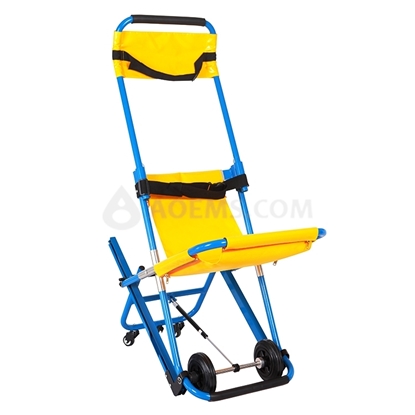 It is made of High-strength Aluminum alloy and pVC mattress. With tracking belt and light, just needed one person to push down the stairs. The telescopic handle can suit for the personal height. It is folded to storage and convenient to use.